Whassup Men of the City. Thanks for checkin us out. MOTC is a mens group like none other. We started off dreamin of what God can do with individuals when we strive to become mature Christians.
Now we are striving to reach out to all men at across the city, surrounding Churches, and even men in our city who may not yet know of Christ.
Here you will find:
More about our beginnings
"How do I fit in?"
More about our beginnings
Men of the City started out as a group of five men hanging out together. Each were at a crossroads in their life. Three of them attended Substance Church and heard Pastor Peter Hass talk about S.P.A.C.E. (accountability) groups. At the right time, each of us decided to take charge of certain areas of our lives and started a SPACE group. In a short year, God broke addictions, reconciled relationships, and grew up a passion in us to begin leading in different ministries.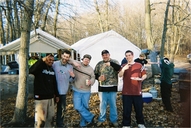 After looking back on that year we decided to invite and teach other men the power of leading Christ-centered lives. We called ourselves Men with Substance. We met at a community center and played lots of dodgeball, but we also built the foundations of lifelong friendship. This was also the foundation and intimacy that God began to do an incredible work.
Families have been restored, men have broken addictions, have been saved, baptised, healed, you name it, but most importantly, it is a place where everyone would wittness God, We looked around: the diversity in this group ranged in age, church attended, race, culture, and on and on. Realizing the diversity is when we then called ourselves – MEN OF THE CITY.
"How do I fit in?"
So – you wanna know how you fit in? Well, I wanna tell you – no matter what you are going through, where you are coming from, there is a place for you – right here at Men of the City. There are guys here who have dealt or are dealing with a variety of struggles. Chances are you are not the only one dealing with what's going on. And this is where we can pray to God with other Christians for healing.

BUT – before just diving right in, we want to welcome you and provide you the opportunity to get to know some of the guys. We accomplish this by simply hanging out, usualy centered around some activity like volleyball, basketball, dodgeball, ping pong, foosball, cards, or whatever else we can do in the space we have available to us.
Then as time goes on, we will take a look at what is in store for us as far as changing our circumstances and strive for leading better lives. This will usually take place at a smaller group level. We are here to connect you with those people and teach you some basic guidelines and tools on how to conduct these more intimate times so everyone has the same expectations before getting into one of these groups commonly referred to as S.P.A.C.E. or accountability groups.